Nock Deighton has been awarded double gold at the 2018 Best Estate Agency Guide Awards - meaning we are in the top 0.5% of estate agency branches in the country.
Compiled by industry experts at The Property Academy and supported by Rightmove, theBest Estate Agency Guide has independently assessed every agent in the UK - all 15,000 of them.
It is compiled over a 12-month period and uses more than 30,000 mystery shopping trips and in-depth analysis of performance data, listing the best agents in the UK.
There is also an awards ceremony which recognises what the guide describes as "exceptional" agents, and we were delighted to be invited to attend the event in London in October.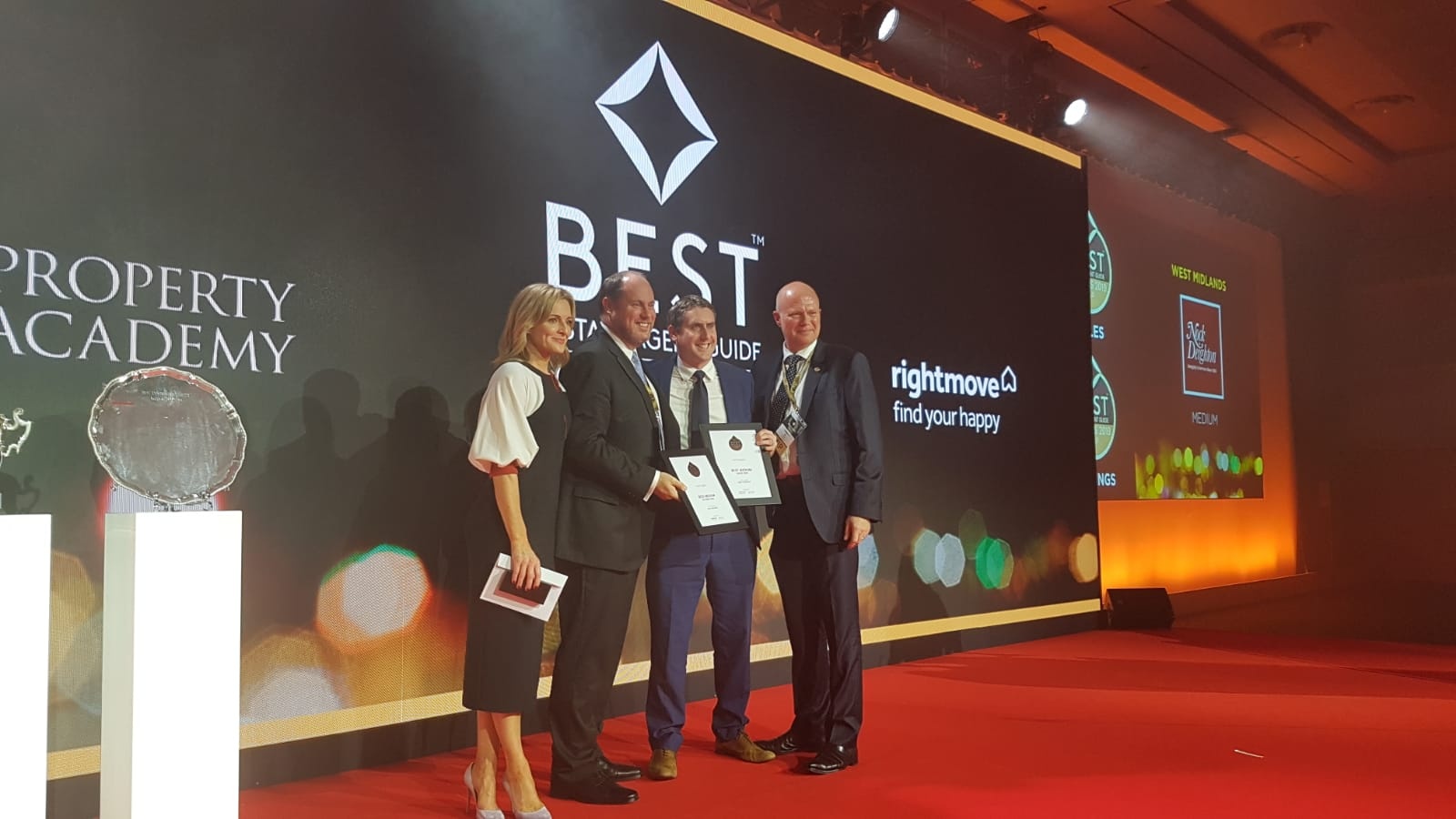 Ross D'Aniello, sales and marketing director at Nock Deighton, said: "We are absolutely delighted with this news, firmly establishing us as one of the premier estate agents in the country.
"All our staff across the company have been working exceptionally hard in raising our already high standards of service to the next level. It is a tribute to their efforts that we have been able to feature so strongly in the latest guide.
"We're the 'Best Medium Agent in the West Midlands' for both sales and lettings according toRightmove and theProperty Academy after being assessed independently by mystery shopping and scrutinising all marketing and response rates to enquiries.
"This is against all 15,000 estate agents in the UK, and winning double gold places us in the top 0.5 per cent of all 15,000 agents!
"Nock Deighton has a wealth of experience in the industry obtained over many years of providing an elite service to people during what is normally one of the most stressful times of their lives, moving home.
"We always consider our clients to be top priority in any negotiations we undertake and I think our long-standing record and our inclusion in this most prestigious of guides only goes to strengthen that belief and maintains our position as the agent of choice for people in Shropshire and Worcestershire."
To see how the specialists at Nock Deighton could help you sell your property, why notbook a valuation now.
When it comes to choosing estate agents, one of the most obvious differences people notice is the asking prices which agents recommend.
 
It's easy to be swayed by the temptation of asking for a higher price, which is why some agents make a habit of overvaluing properties to ensure they win the instruction.
 
It's really important not to fall into that trap!
 
The consumer watchdog Which did some research recently and found that estate agents who overvalue properties actually leave sellers worse off because they have to make huge price cuts to eventually sell their home.
 
Figures released by Which showed that one in five properties in England and Wales had to be reduced by at least 5% before being sold.
 
Sensible pricing is so important for a number of reasons. Unrealistic pricing will put off potential buyers in the first place – meaning you miss out on the spike of interest when a property first goes on the market.
 
If you then need to reduce the price, buyers will know that you have been on the market for some time and will be more desperate to sell – so your bargaining power reduces too.
 
So when you are comparing estate agents, make sure you talk to them in some depth about how they have come to their valuation – and remember that higher is not always better.
 
To find out how much your property is worth, why not book a valuation now?
"When should I put my house on the market?"
It's a question we get asked on a regular basis, and as with many things surrounding property sales there is no easy answer!
But there is a common school of thought that now is not a good time to be looking to move because "no-one looks for houses over Christmas".
Not true!
Did you know that one of the busiest days of the year for online searches, typically on Rightmove and OnTheMarket, is December 27th?
So if you are looking to move in the new year, you need to get your property ready for marketing now, with the aim to list it on Rightmove just after Christmas.
It's a clever tactic because lots of people will wait until January before contacting estate agents to start the ball rolling, but if you can launch your property in that "downtime" between Christmas and New Year you will be ahead of the pack.
After all, those house-hunters will be chomping at the bit to get viewing as soon as they can after the Christmas break and you want your house to be top of their list.
Please give the Nock Deighton sales team a call on 01952 292 300 or pop into your local office.
It's always difficult to choose between professionals who do a similar job - what's the difference between two solicitors firms based in Shropshire, for instance?
So it is with estate agents. Deciding which agent to help sell or rent your home is really tricky - for a number of reasons.
For a start, you are dealing with in all likelihood the biggest financial investment you will ever make, so a lot is at stake.
Also, estate agents are traditionally not very good at distinguishing themselves from one another, and you may not even know what qualities you want in your estate agent - what makes one agent any better than the others?
Well, there is a new online search tool to help with all that, called the Best Estate Agency Guide, which rates every estate agent in the country and lists the top 20% in the guide.
Compiled by independent industry experts, the Property Academy, and supported by Rightmove, the guide rates branches rather than estate agencies as a whole, to reflect the "hyper-local" level of service.
Branches are tested against a set of customer service and performance criteria, including mystery shopping and data analysis.
You can check out the guide and search for estate agents in your area by going to the Best Agency Guide website here.
There are other ways you can choose an estate agent too, of course. The first thing you can do, which you have probably done already without even realising it, is talk to your family and friends about their experiences. Were their agents friendly and helpful, did they advise them well and help them achieve a good price?
You will probably already have an impression about who the busiest agents are Telford, but take a closer look - how many For Sale boards from each agent can you see on your way to work, for instance? It doesn't automatically mean they are capable, but having lots of stock for sale is usually a good indicator that an agent is doing well.
There are plenty of other factors to consider as well - why not give us a call for more advice on 01952 292 300.
House prices in Shropshire, Worcestershire and Herefordshire seem to be bucking the national trend as they continue their steady rise throughout 2017.
According to the Nock Deighton House Price Index, prices across Shropshire climbed by 1.5% during April, with a year-on-year increase of 4.5%.
Sales and marketing director at Nock Deighton, Michael Nettleton, says: "Our figures show a gradual progression for prices across Shropshire over the past few months, which is good news because it indicates a stable market.
"Nationally, the likes of the Halifax are reporting something of a slow-down, with prices in the three months up to April 2017 being 0.2% lower than in the three months up to January 2017. I suspect those figures are heavily skewed by the London market, however, and certainly the general mood here in Shropshire is optimistic.
"A continued shortage of houses coming onto the market and affordable mortgage rates are keeping prices buoyant - although we have of course got the General Election looming which traditionally causes people to pause.
"It will be interesting to see what impact that has on the figures, so we will be keeping a close eye on house prices over the coming months."
According to Feedspot, the Nock Deighton blog is among the best in the industry, offering news, opinion and advice on buying, selling and letting property.
They supplied us with a medal to display on our website, so here it is - and a big thank you to everyone who reads and links to this blog!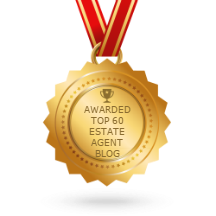 Cordage House in Friars Street, Bridgnorth, sold after five viewings in 15 days - and Andrew Ainge, of Nock Deighton in Bridgnorth, said good quality houses were not staying on the market for long.
He said: "This individually-built home was a real one-off and was really popular. To be honest, it's easy to see why with its immaculate and flexible family accommodation within close proximity of the town centre. Cordage House generated lots of interest, with today's market responding very well to unique properties, and with other buyers missing out we'd encourage anyone thinking of selling to get in touch."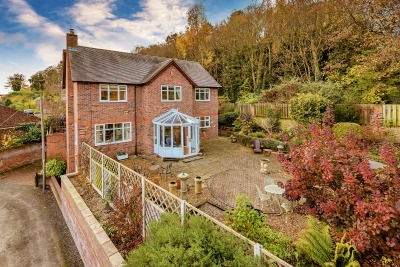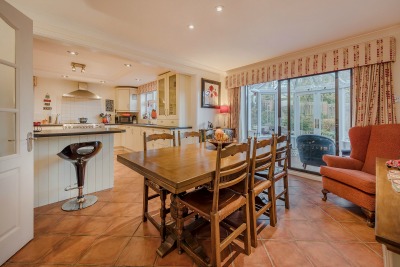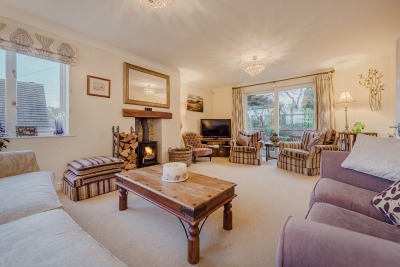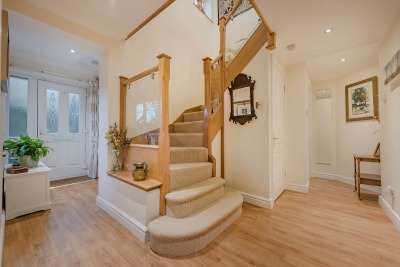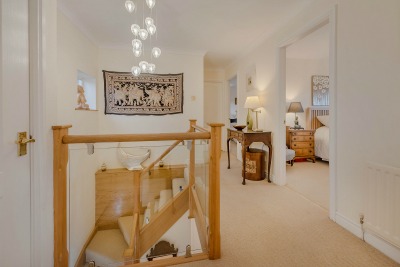 Andrew added: "We have buyers who are just waiting for the right property to come along so now is a great time if you are looking to sell your house.
"The property market in Shropshire, and Bridgnorth in particular, is performing really well at the moment with lots of properties exchanging, so it's a good time for both buyers and sellers."
For more information, contact the Bridgnorth sales team on (01746) 767 767.
There is a popular myth out there that Christmas is a bad time of year to sell your house.
The figures for how many people are searching on internet portals like Rightmove skyrocket over the Christmas period - and the number of viewings often spikes too.
Yet a lot of people discount this time of year for putting their house on the market.
True, if you are not seriously thinking about moving anyway, then property will be the last thing on your mind, but on the other hand, there are still plenty of people who either have their house on the market or are already ready to go.
And for those serious buyers, the "magic" of Christmas can be used very much to your advantage, as Nock Deighton's sales director, Michael Nettleton, explains…
"Rather than avoiding Christmas, it's a great time to really tug at the heartstrings of your potential buyers.
"If you can make your house look like the perfect place to spend what for many people is the most important family time of the year, you will be onto a winner.
"Here are some tips for how to stage your home perfectly for those festive viewings."
If you have an open fire or wood burning stove, make sure it is lit and giving off a lovely cosy glow.
Light Christmas-scented candles to give that festive ambience.
Invest in a real Christmas tree and make it look stunning.
Put a good quality wreath on your front door - first impressions are everything.
Bake some mince pies and have them cooling on the kitchen table.
For more tips on how to sell your home, give the Nock Deighton sales team a call on 01952 292300.
If you are considering selling your home, now is a great time to get in touch with us - the market is experiencing a shortage of local properties for sale with demand outstripping supply.
By way of example, Culzean House, an impressive four-bedroom detached house in The Keep, an exclusive development on Ironbridge Road, Madeley, had 20 viewings and four offers before achieving 98% of its asking price.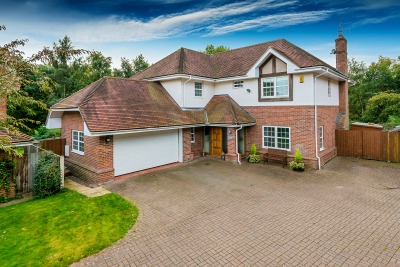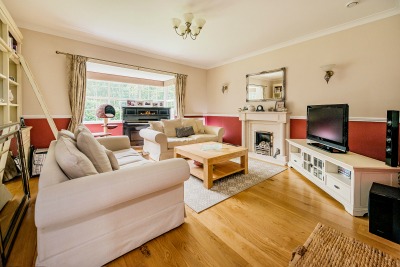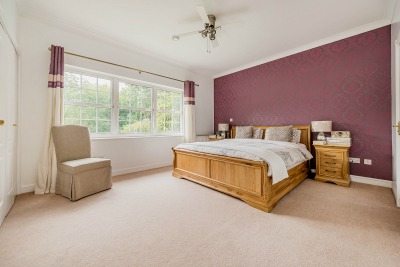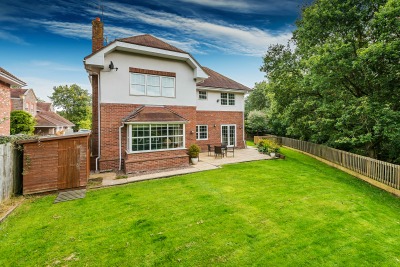 Demand for property is extremely high all over Shropshire, so we are urgently looking for more properties for buyers who are ready and waiting to move.
Properties like Culzean House will sell very quickly in the current climate, as there is still a shortage of supply to satisfy the demand for buyers - particularly in the Telford area which is currently very popular.
If you are thinking of selling, let's have a chat about how we can help you get the best possible price for your home.
We have spoken previously about the importance of Internet portals like Rightmove when marketing your property and what you can do to get the most out of them.
The three most important parts of your Rightmove profile are:
(1) The main image
(2) Your pricing strategy
(3) The property headline
In this, part two of our Rightmove masterclass, Nock Deighton sales and marketing director, Michael Nettleton, takes a look at your pricing strategy...
Many people think that by marketing their house just under a round figure they will tempt more buyers.
In actual fact it is often better to have an asking price of £200,000 rather than £199,995 because it's included in the pricing bands on internet portals.
The next time you're on Rightmove, click on the price range button and have a look at the pricing bands.
You want your property to fit in as many bands as possible, so by rounding the asking price up to £200,000 you will be included in searches for £150,000-200,000 as well as a search for £200,000- £250,000.
If your house is priced at £199,950 you're potentially missing out on those buyers who have a budget of £200,000.
So don't be afraid to round up rather than down!
The final part of our Rightmove masterclass will look at how you can make your property stand out by creating a snappy headline - look out for it in the blog soon.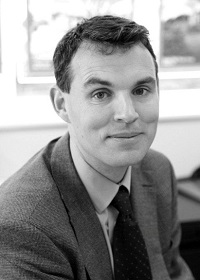 Michael Nettleton
Internet portals like Rightmove are massively important for generating interest and viewings in your property, and there are a few simple things you can do to maximise your potential.
Michael Nettleton, director here at Nock Deighton, has this advice...
The three most important parts of your Rightmove profile are:
(1) The main image
(2) Your pricing strategy
(3) The property headline
I'm going to take a look at each of these in turn, starting with the main image and looking at the other two in future blog posts.
So, your main image: Give yourself a minute and look at the main image of your property. Be critical - does it show your house in the best possible light?
Would it make you click on it for more details? If not, it could be time for a new picture.
I've tested various photographs to see how they affect click-through rates, and one that works well is an image of just your front door.
Of course, it helps if your door looks good - so make it look as nice as possible by giving it a fresh coat of paint or framing it with a hanging basket or flower pot.
It might sound strange, but it works! Be creative with your photographs and your click-through rates will improve.
Thanks for reading. More tips will be published on this blog soon!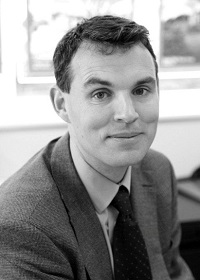 Michael Nettleton