We are delighted to announce that Nock Deighton has joined a leading national network which will help our clients in the booming land and new homes sector across Shropshire, Worcestershire and beyond.
The Land and New Homes Network (LNHN) spans the UK and brings the most professional, forward thinking and trusted non competing estate agents together to offer developers, property investors and home buyers an unparalleled service based on knowledge, experience and integrity.
This means we are now in an even stronger position to provide land and development consultancy to clients and a specialised new homes sales service.
Michael Nettleton, vice chairman and head of the Nock Deighton Land and New Homes Department, said: "We are very pleased to be selected as the LNHN's agent for Shropshire.
"It means we can deliver even better results for our clients. Membership of the LNHN gives us access to national land and new homes experts who will be on hand to advise us when needed.
"The Government has made addressing the housing shortage a priority so with thousands of new homes needed we've been proactive to ensure our clients will benefit from the best advice and coverage available.
"The network's national coverage means we have relationships with builders, developers, investors and estate agents from across the UK. This is good for anyone selling land or new homes with us, as it increases the amount of potential buyers enormously.
"And it means more choice and better quality for local people looking to buy a new home."
Ian Stratford, Land and New Homes Network's Managing Director, said: "We are really looking forward to working together. Nock Deighton is exactly the type of agency we want as part of the network.
"They were selected for their professionalism, experience and their focus on delivering results for clients."
If you own land or a property that you think might have development potential please call Michael Nettleton on 01952 432533 for a confidential conversation or visit http://www.nockdeighton.co.uk/residential-sales/land-new-homes
The latest figures are in for the Nock Deighton House Price Index:
Monthly increase in January of 0.32%
Year-on-year rise of 4.35%
This small monthly increase in house prices in Shropshire, Worcestershire and Herefordshire fits in with our prediction for a steady market during 2017.
Michael Nettleton, sales and marketing director at Nock Deighton, says: "Steady, gradual increases in prices are an indication of a well-performing market, so this is a great start to the year.
"Last month, we spoke about how some national commentators were predicting a tough year, but national figures are heavily skewed by the London market.
"What these early figures show us is that buyers and sellers can have confidence that the housing market in Shropshire and Worcestershire is on a steady course."
For more information and advice about buying or selling a house, give the Nock Deighton team a call on 01746 767 767.
Here are our latest house price figures:
Monthly decrease in December of 0.3%
Year-on-year rise of 5.4%
Despite the small dip prior to Christmas, we are predicting the steady increase in house prices which we saw during 2016 to continue throughout 2017.
 
Michael Nettleton, sales and marketing director at Nock Deighton, says: "A lot of commentators are warning of a tough year ahead, but those fears are very much based on the London market which is currently facing up to a number of its own challenges.
 
"House prices in London have fallen due to a perfect storm of uncertainty over Brexit and a natural correction of over-inflated prices in recent years.
 
"So when you include London in the analysis of the national market it will result in a slightly skewed picture.
 
"However, Shropshire's property market is actually performing well and we are confident that house prices will continue to grow at a steady rate.
 
"We are predicting a continued monthly increase in the region of circa 0.2% during 2017, which while not headline-grabbing, will be good news for the market in general."
With interest rates being at an all-time low, shopping around for a good rate of return from a bank or building society is somewhat difficult.
If you're very lucky, you might be able to achieve a 1% to 2.25% return on your money and it sometimes feels like you might as well put it in a suitcase under the bed!
If you are downsizing and wish to release the equity from your property what are your options - stocks or shares? Rates of return on these types of investment can typically be around 3.5% to 4.5% but that is of course if the investments are performing well.
If you have considered property but don't want the hassle then perhaps you should rethink as there may be a solution…
It is not unrealistic to expect a net return of up to 6% on a rental investment property, and this is not taking into account the capital growth of the asset. A three-bed semi-detached house somewhere in Shropshire might cost £150,000 to buy, and if you receive a rent of £775 per calendar month, that is a 6.2% return. With management fees typically being around 10%, this means you can expect a net yield of 5.58%.
Rental prices are remaining strong with a significant amount of activity in this sector making it a more and more attractive proposition. The "housing crisis" in the UK has fuelled this activity and it shows no sign of changing significantly with the Government's new stance on the Help to Buy scheme.
At Nock Deighton we have an established Property Management Department who will take that hassle of renting away from you.  We ensure that each of the 700-plus properties that we manage has a dedicated property manager, one person who is responsible for the day to day management of your investment and reports directly to you.
Each of our regional offices has a team who can inspect, market and let your property and then pass on the management to our Property Management Department.
Why not get in touch with our regional offices to speak with our teams. They are always pleased to share their expert knowledge and to work with you to see how we can tailor our services to suit your requirements.
The impact that the EU referendum decision will have on house prices and the economy in general has dominated the media in recent times.
 
The general consensus on a national scale has been that leaving the European Union will have a negative effect on house prices - but Michael Nettleton, director of Nock Deighton estate agents, has a different view.
 
Michael says that house prices in Telford in particular could actually become more sustainable as a result of the vote.
 
As he explains: "The referendum vote will ultimately have a sustained positive effect on house prices in Telford and the housing market at large. Depending on your politics, you may raise an eyebrow at this point, but let's just have a look at some key economic ideas and data to see why this may be the case.
 
"Plucked from obscurity and made a posthumous star during the 2008 financial crisis, a little-known economist named Hyman Mynsky held the hypothesis that risk-taking during the boom times ultimately sows the seeds for greater instability during a recession.
 
"This is a repeating cycle of boom and bust we have seen over and over again with monotonous regularity for generations. Regardless of your politics, the economic shock of the Brexit vote may have done the Telford housing market a favour - which is good news if you want to sell a house in Telford, or indeed if you are looking to buy.
 
"Inflation is imperative for the health of the economy, but just like Goldilocks, it's a case of not too hot, not too cold, we want it to be just right!
 
"With the Bank of England targeting an inflation rate of 2%, Telford house prices have massively outperformed this figure with an average rise of 4.15% in the last 12 months.
 
"That might sound great in principle, but let's just think about how this would affect the the average Telford homeowner in practice.
 
"The average house price in Telford is currently £146,904. Let's assume the plan over the next year for a typical homeowner is to move to a £300,000 house in Priorslee.
 
"If both properties have increased in price by 4.15% over that period, the differential between the two properties would have potentially grown by over £6,000.
 
"This would increase the amount of borrowing required for the buyer, and also limit the pool of buyers with the necessary funds for the estate agents in Telford to target.
 
"When moving house, while the house price is an important factor, the differential and ultimate cost of moving is actually the most crucial calculation.
 
"If Brexit has managed to give people a moment to take stock and temper the boom, we can have steady and sustained house price growth for a much longer period.
 
"I'm not sure if Mr Mynsky or Goldilocks would have much else in common, but I think we would be confident they would both agree that 'just right' is what is best for Telford."
With so many estate agents out there - and more appearing all the time with the advent of online agents - it can be difficult to tell them apart.
 
Michael Nettleton, sales and marketing director here at Nock Deighton, has the following advice...
 
"The question of what makes you so different to all the other agents out there is one we do get asked from time to time," he says
 
"I'm afraid there isn't a simple answer because there are lots of different factors involved, but it does highlight some interesting issues.
 
"In essence, estate agents sell their time and expertise - and the property industry has never been very good at explaining how the skills of a good agent can really help people sell their home.
 
"I suppose a simple answer to what the difference is between estate agents might be that some are just better than others.
 
"But the important thing to bear in mind is that while there are always cheaper options out there, a good agent can quite easily save you more money than it would ever cost you.
"One such example I witnessed recently involved a client who was happy to accept an offer on their property.
 
"We advised them that we felt we could get more, but obviously didn't want to jeopardise the deal. As a result of our skilled negotiating, the difference between the final agreed sale price and the original offer more than covered our fees and left us with a very happy client.
"Another example came from speaking with a gentleman who was very pleased at the savings he had made in agents fees by using the cheapest option possible.
 
"After looking at his property, I am sure the offer he had accepted was about £18,000 less than the property should have made.
"It's a generally accepted truism in the industry that the difference between a good agent and a bad one is worth about five per cent to the client.
"If you run the maths, that's a lot of money to risk on one of your most important assets."
House prices have steadily increased in Shropshire since the spring, according to figures compiled by the analysts here Nock Deighton.
The figures from our monthly House Price Indexes, based on our own figures and a cross-section of industry reports, have shown an increase in house prices every month since March up to the last report in June.
Michael Nettleton, director of sales and marketing at Nock Deighton, says the steady increase is mostly down to a lack of supply.
"We have seen a strong market throughout the first half of 2016 with demand outstripping supply," he says. "According to our figures, house prices have risen by an average of 0.5 per cent each month since March, which shows the market is in a pretty good state.
"Summer is always a busy time for house sales so we are predicting that prices will continue to rise over the summer months."
A new rising musical star is set to be uncovered as part of a partnership between Nock Deighton and the Ironbridge Gorge Brass Band Festival.
The Nock Deighton Challenge for Young Composers aims to find the next Bach, Mozart or Beethoven and forms part of the festival each year.
With the our sponsorship now in its fourth year, it has taken on an extra significance after the sad death of Eric Pegam last year.
Eric was one of the main organisers of the festival and was committed to highlighting talented brass musicians and composers from the county.
The winner of this year's challenge will receive a cash prize and The Eric Peagam Memorial Trophy, with prizes also awarded for second and third place.
The free event took place on Saturday and Sunday, July 9 and 10, at the Museum of Iron in Coalbrookdale.
Graham Taylor, managing director of Nock Deighton, said: "We are very proud to sponsor this award and to continue our association with Ironbridge Band Festival. We have already seen past winners go on to great things so expectations are high for this year's recipient.
"The festival is an excellent event right here in Shropshire and we'd encourage residents to go along and listen to the great talent we have here."
Neil Fury, one of the festival's organisers, added: "We opened for entries earlier in the year and were once again delighted with the high standard of work sent in.
"The organisers would love to see even more entries next year and we launched the 2017 challenge during the festival weekend."
Visit www.ironbridgebandfestival.co.uk for more information about the festival.
Ever-increasing house prices have slowed slightly in Shropshire, but a lack of new properties coming onto the market is still driving prices up.
 
That's the view of analysts at Nock Deighton estate agents, who compile a monthly house price index based on a cross-section of market reports and their own statistics.
 
The latest figures show that house prices in Shropshire rose by 0.1 per cent over the past month, with an annual increase of 3.5 per cent.
 
Michael Nettleton, director of sales and marketing at Nock Deighton, said: "Although the figures indicate a slight slowing down of house prices, demand is still extremely high.
 
"Our figures show an average sold price of £238,971 for the last month which corresponds with the generally buoyant market.
 
"It's been the same story for most of this year - a shortage of stock is still the main issue so houses which are priced correctly are selling very quickly."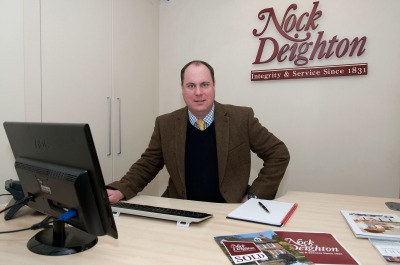 Nock Deighton is expanding its service by launching a department specialising in country homes.
The new team has specific expertise in country properties, including planning and development issues, and has been introduced to meet a rise in demand from buyers.
Head of the Country Homes department is Ross D'Aniello, who has many years of experience specialising in country, village and rural property.
He said: "I am thrilled to join Nock Deighton, a company I have known and admired for many years.
"The Country Homes team provides a highly specialised and personal service regarding the sale and acquisition of high end and quality period, individual, country and village, estates, historical, and listed properties in Shropshire, Herefordshire and Worcestershire.
"We work alongside our agricultural and surveying departments, and in doing so are able to draw upon their wealth of knowledge and experience. We are therefore best placed to advise on all matters relating to your property, whether it be with regards to the best way to present and sell your home, to advising on planning legislation and landlord and tenant law.
"I would be delighted to speak with you to discuss how we can tailor our services to cater to your needs."
Michael Nettleton, director of sales and marketing, added: "We are delighted to welcome Ross into the Nock Deighton fold.
"Ross and his team are working closely with each of the seven Nock Deighton offices which are all well positioned throughout the three counties and are recognised as the 'go-to' local experts.
"This enables the Country Homes department to have maximum coverage and to provide a comprehensive and unrivalled service to our clients.
"We have a database of qualified buyers who are either local or looking to move to the region - our teams work hard to gain the trust of these buyers in order to ensure that we are their first port of call if they wish to discuss their property requirements."
For more information about the Country Homes department, contact Ross and the team on 01584 875555 or email r.daniello@nockdeighton.co.uk
House prices in Shropshire are back on the rise according to figures compiled by analysts here at Nock Deighton.
Our monthly House Price Index report has seen a slight decrease over the past three months, although prices have been consistently higher compared to the previous year.
The latest report, which is based on Nock Deighton's own statistics and a selection of national reports, shows a monthly increase of 1.3 per cent and an annual increase of 3.5 per cent.
Michael Nettleton, director of sales and marketing at Nock Deighton, said there was still a shortage of homes for sale which was the main reason for prices going up.
"We have been saying the same thing for the past couple of months now," he said. "The stock shortage is seeing a predominantly balanced market, but it is still favouring buyers who have realistic expectations.
 
"The growth in prices reflects this and with spring well under way, it's a great time to put your house on the market."
House prices are continuing to rise in Shropshire, with about 15 per cent fewer homes on the market than this time last year, according to industry figures.
The agents here at Nock Deighton compile a monthly house price report, and the latest figures show a yearly increase of 2.75 per cent with an average sold price of £263,138.
Michael Nettleton, director of sales and marketing at Nock Deighton, said a shortage of houses coming onto the market was pushing prices up compared to this time last year.
He said: "Our house price index shows a small monthly decrease of 1.2 per cent for February, but year-on-year prices have continued to rise. The availability of stock is the key issue, with industry sources suggesting there are around 15 per cent fewer houses on the market at present compared to last year.
"That's good news if you are looking to sell, because prices are good and there are plenty of buyers. In simple terms, a shortage of supply and surplus of demand suggests a strong year ahead for positive house prices."
The Nock Deighton House Price Index report is based on our own statistics and a selection of national reports, and is produced every month.
If you have ever viewed a showhome at a new development, chances are you will have been impressed with the space and layout of the property.
 
Lighting, colour and how the furniture is placed around the home are important, and there are some techniques you can use yourself to make your own home more desirable to potential buyers.
 
Staging your home means that buyers don't need to use their own vision to imagine how it could look - you have done if for them to ensure it already looks at its very best. The designers who stage showhomes are experts at doing just that, and Michael Nettleton, sales and marketing director here at Nock Deighton, has some tips everyone can use to give their own property some showhome style to help achieve a sale.
 
"Make sure each room is defined - your buyers need to immediately see what each room is used for, so a dining room needs a table and spare bedrooms need beds, not boxes which can make them look cluttered.
 
"Think about lighting, and create different moods throughout the house. Kitchens look good nice and bright, and softer lighting works well in the bedrooms and living room.
 
"Be careful with your colours - some buyers just can't get past a bright red living room or shocking pink bedroom, so try to keep colours subtle to appeal to most buyers.
 
"Make rooms feel as spacious as possible. Mirrors are useful to help make a room feel bigger, and try not to cram too much furniture into a small space.
 
"Remember that people look at your furniture, even though it won't be part of the sale, so invest in new bedding if you can and buy new cushions to brighten up your sofa.
 
"Buyers also look at your decor, so pack your personal ornaments away and replace them with modern accessories which can really make a big difference to the feel of a room.
 
"Finally, try to remove any items that you wouldn't see in a showhome. Put the dog bed in the shed when you have a viewing and tidy the children's toys away - anything that might distract your buyer is a potential black mark against your property when they are comparing it to others they have viewed that day."
 
So there you have it, some showhome secrets which I hope will help push your property to the top of a buyer's wish list!
Welcome to the final Nock Deighton blog of 2015 when we complete our three-part Rightmove masterclass.
 
Internet portals like Rightmove are a vital part of your marketing strategy so it's important you work with your estate agent to get the most out of them.
 
We have already talked about the main image and pricing strategy, so now we come onto the property headline.
 
Michael Nettleton, sales and marketing director at Nock Deighton, explains all...
 
A lot of people don't even realise they can influence the headline given to their property on Rightmove, but you can. And you should!
 
Next time you're on Rightmove, have a read of the opening paragraphs and you'll see how similar many of them are - with the right advice from your estate agent you can really make yours stand out.
 
There are plenty of modern three-bedroom family properties benefitting from a central location. What makes yours different?
 
Be creative - use individual and unusual words that really capture the essence of your home. Is it the perfect home to raise a family with the added bonus of being able to grow your own vegetables in a beautiful garden? Then why not tell everyone!
 
Nock Deighton are one of Shropshire's longest-established estate agents, so please get in touch for any advice regarding buying or selling property.
Property experts here at Nock Deighton estate agents in Shropshire are predicting a busy start to the year in the housing market as demand continues to outstrip supply.
 
The selling team compiles a monthly house price index based on Nock Deighton's own figures and industry reports.
 
Michael Nettleton, sales and marketing director, said the most recent report showed a small monthly decrease of 0.4 per cent in December - although year-on-year prices showed a 3.6 per cent rise.
 
Nock Deighton's average sale price in Shropshire for the past 12 months was £245,036 and Mr Nettleton said the future was bright.
 
"The small monthly decrease in December's report was counter-intuitive to our current experience of the market in the build up to Christmas," he said.
 
"Although volumes of instructions tend to wind down over the Christmas period, sales activity is still very strong, with a shortage of supply being the real issue in the market as a whole.
 
"With the pent up demand for property, we are predicting a very strong market for the new year."